Rent an apartment on the plateau Mont-Royal in Montreal
Nid d'Amour is a rental agency that offers apartments for rent in several sought-after neighborhoods in Montreal. The Plateau Mont-Royal is one of these areas.
It is one of the most popular places in Montreal to walk, store, eat or simply live. The borough of Le Plateau-Mont-Royal, as it is legally known, is popular with Montrealers and local and international tourists alike for its narrow, winding streets lined with colorful houses and unique stores, where the overall atmosphere is both charming and exciting.
The Mount Royal Avenue Trade Show is the largest sidewalk sale in the metropolis and probably in Quebec. From St. Laurent Boulevard to Fullum Street, you'll find over 2 kilometers of stores, businesses and restaurants eager to show you the best deals in town (Photo credit: ©marcbruxelle/123RF.COM)
In the heart of Montreal, the borough is located on a real plateau topped on the west by Mount Royal. Important streets and avenues mark the boundaries of the borough or cross it from north to south and from east to west. These include: Avenue du Parc, Boulevard Saint-Laurent, Saint-Denis Street, Papineau and de Lorimier Avenues (south-north axis), Avenue du Mont-Royal, Sherbrooke Street, Rachel Street and Laurier Avenue (east-west axis).
The borough of Plateau-Mont-Royal is home to just over 100,000 residents, or 6.1% of the city's total population, in an area of 8.1 km2. The borough is the youngest in the city, with a median age of 34.1 years compared to 38.6 years for the city as a whole. Some 20,255 families in Plateau-Mont-Royal are couples without children, while less than half of the families have children living at home. 28% of the population is between the ages of 25 and 34, compared to an estimated 17% in the greater Montreal area.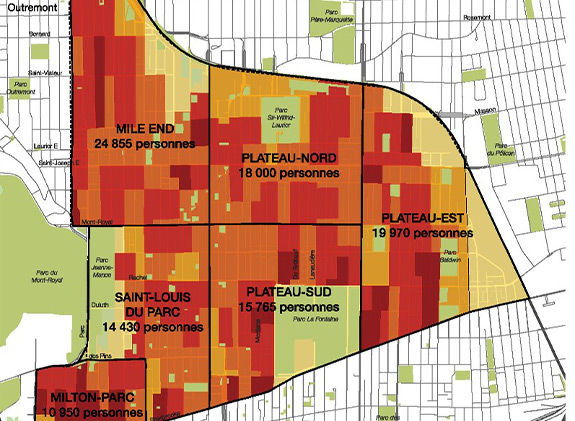 The borough of Plateau Mont-Royal is made up of six neighbourhoods, which offer a diversity of businesses, services and jobs; a rich social and cultural life as well as facilities that promote active and safe travel, cool islands and meeting places. (Image credit: Rayside Labossière – Portrait of Plateau Mont-Royal).
The importance of the immigrant population in the borough is illustrated by the fact that one person in two is a direct or indirect product of immigration: 49% of citizens were either born abroad or have at least one parent born outside of Canada. They come in particular from France and Portugal. During the period from 2006 to 2011, newcomers from France have largely contributed to the demographic development of the borough. To the point that the neighborhood is regularly nicknamed "Petit-Paris", "Little France" or even ironically "New France", according to Wikipedia.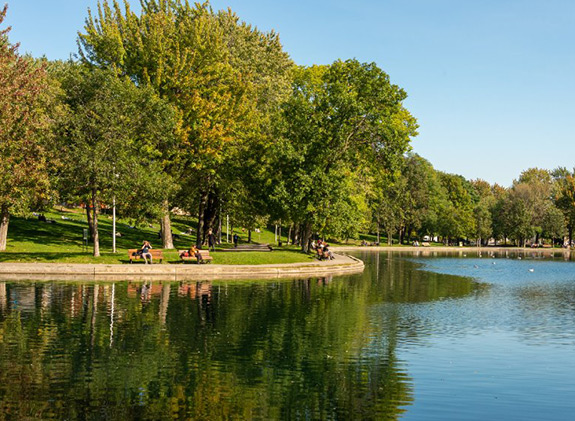 With its 40 hectares of greenery, La Fontaine Park is a true haven of greenery in the heart of a neighborhood full of shops, bars and restaurants. It is sometimes romantic with its artificial ponds linked by a waterfall, its fountain, its public artworks and its skating rink in winter; sometimes sporty with its tennis courts and petanque, sometimes festive with cultural events, cinema, dance, music and theater. (Text source: Tourisme Montréal. Photo credit: ©marcbruxelle/123RF.COM)
Why do people choose to live on the Plateau Mont-Royal?
If you ask one person, they would say that we live for our parks! Indeed, the Plateau's parks offer the opportunity to lounge around, have a picnic with friends or family, or practice a variety of sports activities. Who doesn't know Lafontaine Park or Mount Royal Park? Ask the person on the right, and he or she will answer that he or she prefers the commercial arteries with their stores, boutiques and quality restaurants of all kinds.
While a third would say they love the exceptional living environment and artist leadership of the Plateau, a major creative hub in Quebec and Canada. But for most people, these three answers are good and express their appreciation of the borough.
According to the Maplr.co website, it is clearly the trendy neighborhood of the last decades in Montreal, for those who want to rent or buy an apartment or a house. In addition to its festive aspect, the borough is also a great economic place with more than 6,700 companies, including Ubisoft located in Mile End. In addition, the Plateau-Mont-Royal was named the most creative place in Canada by a study conducted by Hill Strategies Research (2005). According to this study, the Plateau-Mont-Royal areas linked to the H2W, H2J, H2T postal codes contain the highest concentration of artists in Canada.
The Plateau Mont-Royal borough has a host of cultural establishments, both classic and avant-garde, in the fields of music, dance, visual arts, theater and others. As a cultural crossroads par excellence, the Maison de la culture du Plateau Mont-Royal showcases innovative and committed artists who introduce citizens to all possible facets of artistic activity. Very involved in its community, the Maison de la culture is a must in the borough! It is located just across from the Mont-Royal Metro station.
The Plateau Mont-Royal, a neighborhood of tenants?
According to Centris, the answer is yes. In fact, the proportion of homeowners is 28%, while that of renters reaches 72%. This is one of the highest in Montreal. Buildings with less than 5 floors represent 73% of the housing types and those with 5 floors or more, 13%. So there is plenty of choice!
Rental prices vary depending on the size and location of the apartment. In addition, it is important to ensure that the apartment for rent in Le Plateau Mont-Royal is in the best possible condition for living in. More than 25% of the properties were built before 1980 and 32% between 1961 and 1980. It is therefore necessary to have a sharp eye to choose the apartment that will meet your expectations.
A professional apartment rental service
With Nid d'Amour, you are assured of obtaining a quality apartment located in a central borough of Montreal, which is particularly convenient for those who wish to be close to all amenities. For example, the apartments for rent in Le Plateau Mont-Royal have a Walk Score of 100.
Our apartments for rent are located in the best areas of the city and are perfectly maintained. We guarantee you a quality service, and we do everything possible to make your stay as pleasant as possible.
For a long or short term rental, a relocation to Montreal, a fully furnished or semi-furnished apartment… we will find the right nest for you. Do not hesitate to contact us for more information, and we will be happy to advise you in your apartment search.
If you are interested in one of the apartments for rent offered by Nid D'Amour, fill in the associated form.