Rent a luxury apartment in downtown Montreal
Nid d'Amour is a property management company as well as a rental agency that offers luxury apartments for rent in many of Montreal's most sought-after neighborhoods. The borough of Ville-Marie is home to 10 of these neighborhoods or areas brimming with history, culture, commerce, modern buildings and green spaces. Welcome to the soul of Montreal!
Downtown Montreal seen from Mount Royal.
Where is the Ville-Marie Borough located?
Ville-Marie takes its name from the original colony founded in 1642, which was officially renamed Ville de Montréal when it was incorporated on March 31, 1831. This central district of Montreal covers an area of 16.5 km2 and is bordered on the south by the St. Lawrence River, which includes Parc des Îles, and on the north by Sherbrooke Street. It extends from Avenue du Parc in the west to L'Espérance Street in the east. Ville-Marie is surrounded by the city of Westmount to the southwest, the boroughs of Côte-des-Neiges/Notre-Dame-de-Grâce and Outremont/Plateau Mont-Royal to the west, Hochelaga-Maisonneuve to the north and Le Sud-Ouest to the south.
Typical residence that can be found in the residential areas surrounding downtown Montreal.
At the center of the action, in the heart of Montreal
The borough of Ville-Marie is considered the heart of the city, home to a large number of tourist sites, cultural institutions, shops and businesses. It is also a major residential center with iconic sites such as Place des Arts, Old Montreal, the Old Port of Montreal, the Quartier des Spectacles, the Bell Centre, Place Jacques-Cartier and Mount Royal Park.
It is also a business center, home to many businesses as well as important government buildings, such as Montreal City Hall and the Palais de Justice. In addition to the many cultural and economic attractions, Ville-Marie offers a variety of residential neighbourhoods, each with its own charm and history. Getting around is easy for residents and visitors alike, with several metro stations, bus stops and bike paths.
Here are the neighbourhoods and sectors that make up the Ville-Marie borough:
Chinatown
Old Montreal and the Old Port,
TEntertainment district,
Latin Quarter,
International district,
Museum district,
The district of Sainte-Marie,
Gay village
Shaughnessy Village
Faubourgs district
And a good part of downtown including Mount Royal Park.
What are the advantages of living in downtown Montreal?
With a population of 92,000 in 2022, downtown Montreal is one of the most densely populated areas in North America, attracting more than half a million people every day, including students, merchants, tourists, professionals and families. But what motivates so many people to choose to live in this vibrant and popular neighborhood? There are many reasons why living in downtown Montreal can be beneficial.
In urban areas, everything is close
Proximity to cultural entertainment and recreation, proximity to shopping and businesses. The heart of Montreal is famous for its many theaters, museums, restaurants, bars and other attractions. It would take a lifetime to discover it all, and even then, it might not be enough!
The downtown area is well connected by public transportation, including 16 subway stations, which allows for quick and convenient travel. This allows for a shorter commute and more time for other activities. The costs of using a car are also reduced, as there are no parking problems or fear of getting a ticket.
The downtown area is home to a large number of businesses and organizations
they provide jobs to tens of thousands of people, making the labor market very attractive. Geographical proximity to the workplace can become an important criterion for deciding to live in the same neighborhood or even in close proximity to one's employer.
Young families in particular can access public spaces and school organizations in Ville-Marie
142 parks, mini-parks and green spaces (29 playgrounds for children) including the large Jean-Drapeau and Mount Royal parks;
4 indoor pools, 1 outdoor pool, 3 wading pools and 11 water games and 2 beaches;
12 community gardens;
50 community organizations;
2 public libraries, 13 micro libraries and, of course, the Grande Bibliothèque du Québec;
1 house of culture;
23 museums;
2 public markets;
14 schools (8 preschool and elementary, 6 secondary), 4 CEGEPs, 4 universities and 4 adult education centers.
What are the advantages of shopping in downtown Montreal?
Montreal is one of Canada's largest cities and one of the most popular shopping destinations. Downtown Montreal is the heart of the city, and is home to the best stores, trendiest restaurants and most popular attractions. You can find everything in the shops that are concentrated on St. Catherine Street with many shopping centers such as the Eaton Centre, Place Montreal Trust, Cours Mont-Royal, Place Ville-Marie, Complexe Desjardins and many others. At the World Trade Center Montreal, an office and hotel building located in the heart of the international district, you will find luxurious restaurants and boutiques.
Place Montreal Trust located on St. Catherine Street with a crowd of people who magazine or travel for work.
The Underground City (Le RESO)
Ville-Marie is home to the Montreal Underground. It is a vast 32-kilometre pedestrian network underneath the downtown core – the largest network of indoor tunnels in the world – dubbed "the underground city". Subway, commuter rail and bus lines converge here. There are 60 residential and commercial complexes with stores, restaurants, hotels, museums, theaters, universities and an arena. The RÉSO represents 80% of the office space and 35% of the commercial space in the borough.
Accessible services include banks, hotels, shopping malls, corporate headquarters, university buildings, luxury homes, as well as seven metro stations and two commuter train stations. Montreal's underground has more than 120 outdoor access points and is used by more than 500,000 people each day, especially in the Montreal winter. Downtown Montreal's fashion boutiques offer an incredible array of styles, from classic to vintage to avant-garde, to suit every taste and budget. Whether you're looking for a new look for an occasion or just a trendy outfit for your everyday life, downtown Montreal's fashion boutiques are the perfect place to meet your fashion needs such as: Frank And Oak, Annex Vintage, Empire Exchange, Citizen Vintage, Jeans Jeans, Room Service Loft, l'Intervalle, and 1861
Fashionable Restaurants and Bars
The trendy restaurants and bars of downtown Montreal are famous for their culinary offerings. Whether you're looking for lunch, dinner or just a drink, you're sure to find what you're looking for when you explore this lively area. The establishments offer a variety of cuisines from around the world, ranging from local dishes to vegetarian choices, Asian and Italian specialties. Bars offer a diverse selection of alcoholic beverages, from local beers to sophisticated cocktails. You will find a list of the most popular ones below in our Useful Links section.
An environment conducive to employment
In the borough of Ville-Marie, the CHUM (Centre Hospitalier Universitaire de Montréal) is the largest university hospital in the province and the largest employer in the region. Created through the merger of Hôtel-Dieu de Montréal, Hôpital Notre-Dame and Hôpital Saint-Luc, the CHUM employs more than 14,000 people, including 900 physicians and 700 volunteers, and welcomes and treats more than half a million patients each year. The CHUM Research Centre also brings together more than 275 researchers working in various fields related to the well-being of the population.
The International Quarter in particular is seen by many as a great success. It is home to more than 70 international organizations and 85 consulates, making it the largest concentration of its kind in North America, after New York. The city has over 400 corporate headquarters, most of which are located in the downtown area.
The commercial sector also offers numerous employment opportunities, as does the financial sector, which is home to several national and international head offices as well as emblematic buildings such as 1000 de La Gauchetière, 1250 René-Lévesque, Complexe Desjardins and the Stock Exchange Tower (Carré victoria). Thus, Ville-Marie represents more than 25% of the total employment in Montreal.
An environment conducive to education
The education sector is home to numerous educational institutions at the primary, secondary, college and university levels, as well as vocational. These include:
An environment rich in all kinds of attractions
With its vibrant cultural activity and the presence of Old Montreal and the Old Port, the borough of Ville-Marie is a must-see destination for the majority of the 10 million visitors who come to Montreal each year. More than 250,000 people visit the borough each day for reasons other than business.
Ville-Marie is home to the city's biggest festivals each summer, such as the Jazz Festival, Just for Laughs, the Francofolies and the World Film Festival. The Place des Arts, numerous cinemas and theaters also attract a large audience. The Grande Bibliothèque is also one of Ville-Marie's treasures.
Let's not forget the International des feux Loto-Québec, also known as the "Festival des feux d'artifice de Montréal". It is the most important and prestigious fireworks competition in the world. It is an annual event held each summer in Montreal during which several firms each present a 30-minute pyro-musical show. The event attracts an estimated 3 million spectators each year, and features more than 6,000 fireworks displays from each country.
Finally, there is no shortage of museums in the borough, including the Pointe-à-Callière Museum, the Château Ramezay and the Notre-Dame-de-Bon-Secours Chapel Archaeology Museum. Ville-Marie is therefore an environment rich in cultural, historical and tourist attractions.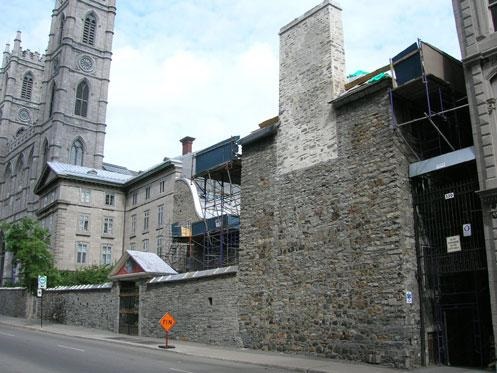 The Seminary of Saint-Sulpice is one of the oldest buildings in Montreal. Built in 1684 on Notre-Dame Street near the old church of the same name, this building is probably one of the oldest in America. Source
And its little historical side?
Finally, a few words about the historic charm of the borough of Ville-Marie. There are seven buildings in the borough of Ville-Marie that date back to the time of Montreal's French regime, which ended in 1763. These buildings include the Old Seminary of Saint-Sulpice (1684), the former General Hospital (1693), the Château Ramezay (1705), the Maison Clément-Sabrevois de Bleury (1747), the Maison Brossard-Gauvin (1750), a small outbuilding related to the "Maison Papineau" complex that is not accessible from the street (1752), and the Maison Dumas (1757). In addition to these, there are several other buildings that are worth a visit, such as the Notre-Dame Basilica, the Notre-Dame-de-Bonsecours Chapel and the Musée des Beaux-Arts.
Yes, the Borough of Ville-Marie has a lot to offer, both to visitors and residents.
Texts inspired by and taken from :
Borough of Ville-Marie Web page
City of Ville-Marie
Wikipedia
Sociodemographic profile, 2016 census, Borough of Ville-Marie, May 2018 edition
Article "Ville-Marie in a few words", Le Devoir
Useful links – What to do in downtown Montreal?